Pavers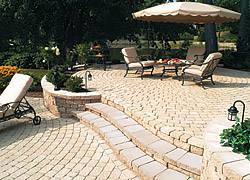 Pavers are a great way to add elegance as well as value to your estate. Whether it's a paver patio, driveway, sidewalk, wall, or a fire pit, we can get it done.
If the Brick Paver Company, or paver installer you hire doesn't know what they are doing then a year or two later the pavers will start to shift and you will have wasted a lot of money on something that should last many years, far outlasting concrete or pavement.
There is no limit to what you can do with them and they really give your estate the WOW factor! Let us come out and give you some ideas and a free estimate.
Serving:
Centerville, OH
Springboro, OH
Bellbrook, OH
Dayton, OH
Beavercreek, OH
Lebanon, OH
Vandalia, OH
Hamilton, OH
Fairfield, OH
Middletown, OH
West Chester, OH
Mason, OH
Cincinnati, OH